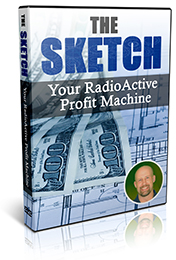 Using the lessons in The Sketch Course, you will be able to apply the RadioActive Profit Machine to lower risk and improve your trading.
What this Video Course Will Teach You...
How to apply the "RadioActive Profit Machine", a unique variation of the traditional married put play. This results in a stock-plus-put position in which you are protected from a large downside move in your stock, but your upside is unlimited. Heads you win, tails you don't lose much. Plus... BONUS: How to use one of TWELVE "Income Methods" to lower the cost basis of your put option, perhaps even eliminating its cost! We call this state "Bulletproof"... when you have no risk remaining but still have upside potential.
The 5 most important tips:
F.I.S.T. - Force Ideal Sized Positions. "Position Sizing" has been called the single most important, but most ignored factor in trading. This course will show you how to AUTOMATE Position Sizing.
Risk Management - Keep the risk in any single play down to around 5%, while leaving your upside potential open.
Tools for quickly finding and identifying these kinds of plays, which saves both time and money.
The secret of the "ATM Bell Curve" and the "REDLine", which enable you to spend the least on time value when you buy, and get paid the most when you sell .
Introduction to the "Income Methods" you may use to reduce the cost basis of your put option. In the right conditions, you might completely PAY for the put that protects your stock. We call this "Bulletproof".
More than 22,000 people have already downloaded The Sketch in its various forms and improved their trading.
Using what they learned about married puts, countless RadioActive Trading Students have bulletproofed stocks!.
INSTANT digital access
Keep Risk in any Trade to 5% or Less
"Income Method #1" to Reduce Risk Further
BULLETPROOFING: Under Certain Conditions, Risk is ELIMINATED.
Bulletproof means "Heads You Win, Tails You Can't Lose!